We never say no to proposals that are inspired by the unique Limbo, delivering captivating worlds, emphasizing environmental puzzles and straightforward storytelling without fanfare or chatter. You could say that this style of games is to 2D platformers what walking simulators are to first-person games, although in this case the pure part of the gameplay usually presents more depth. Planet of Lana shows from the first minutes that it will be – to say the least – an enjoyable experience, although there are some limitations, perhaps due to the relative inexperience of the small development team newly formed, Wishfully Studios.
The script immediately and quickly sets the stage for the simple and welcome adventure that will follow the peaceful introduction. It's really welcome that Planet of Lana tells a clear story, avoiding the symbolisms and allegories often found in similar experiences, which always struggle to achieve their purpose and keep the interest (not to deny very good efforts in this area like those of Playdead).
The first minutes find little Lana in the idyllic fishing village of an exotic planet, where in a single symbolic image she invites us to move to the left, in a beautiful sequence that presents the peaceful life of the inhabitants. Soon we will find her friend, looking together at the vast forest. Somewhere there, dozens of spaceships will appear, some of which will head towards the village, kidnapping its inhabitants, including Lana's friend.
The protagonist narrowly escapes, beginning her nonstop journey to the right side, marking her escape from the alien machines but also her parallel attempt to locate her friend. Along the way, he will find a small creature that could be compared to a cat, clearly having the agility and grace of a feline. This animal will be a much appreciated companion and a useful "tool" that enriches the experience.
Throughout the game, not the slightest intelligible dialogue is heard, the game on the one hand avoiding completely "silent" development and on the other hand using an imaginary dialect, which gives points to the exoticism of this world . It is an abstract mode of storytelling that works in concert with adventure, where understanding of the premise is achieved through the environment. The story is nothing more than an digestible sci-fi short story. Undoubtedly, it does not claim the laurels of originality, but it accompanies Lana's adventure in a perfectly satisfactory way, sufficiently cultivating the feeling of anxiety and vulnerability of the protagonist.
As you'd expect, these alien machines, which come in the form of a spider, are relentless and capable of taking out Lana or the creature following her with a single blow. As such, stealth points are a one-way street, but thankfully don't overdo it in frequency and duration, essentially becoming part of the environmental puzzles. The dodging process is as simple as it takes to avoid fatigue, simply requiring you to watch each enemy's routine and occasionally draw their attention in some way.
In these places the little creature often helps, to which we can give orders, being the appropriate "bait" for every enemy machine to run towards it and away from us. In general, a pretty good job has been done in AI of this creature, seeing it move naturally through the environment and seeming to fully understand our movements to avoid clumsy and unnatural behavior when we move our character, while obeying instantly to our simple directory of commands.
Lana can indicate where she wants this creature to go, if it will follow it or stand still, and we can also order it to activate certain machines. All commands are executed through a simple and straightforward control system, which of course contributes most to the pleasant and long-lasting consultation with this unexpected companion of ours.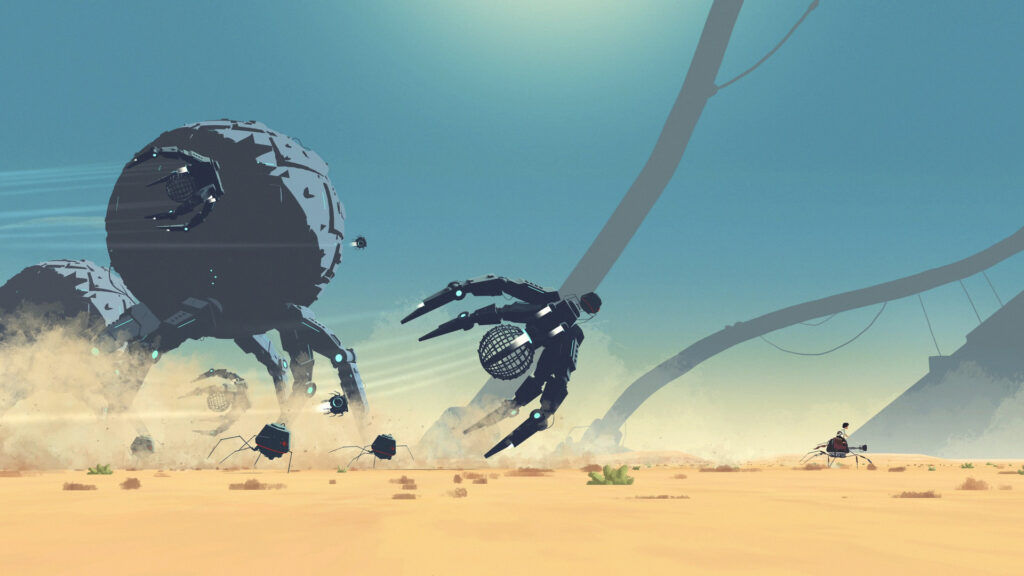 Where Planet of Lana falls a little short is in the area of ​​puzzles. While there are a number of clever puzzles throughout the approximately five-hour runtime, some of them fall into the usual flaw of unnecessarily requiring too many moves. It won't be uncommon for you to have identified the solution early on, but you'll find that you'll need to perform various tedious moves before completing the puzzle.
In addition, a part that could perhaps have been fleshed out concerns the points where the game reasonably requires us to find the creature. Needless to say, it's a necessity, as the creators need to make sure we never forget our feline companion, which means they had to find ways to remind us to have it with us.
These methods end up being repetitive, like the constant points where we have to order this creature to throw us a rope so that we can climb and continue our journey together. Without exaggerating, of course, it's just a flaw, but it's something that, through its repetition, keeps us thinking that it's a game, deducting points, even temporarily, of the organicity of the environment.
On the other hand, a very good job has been done in the animations, especially by Lana, presenting enough variety and naturalness, especially with regard to the jumps. The environments, on the other hand, are particularly beautiful, through their simple lines and the beautiful representation of nature as well as some mysterious installations and constructions.
Without a doubt, one of the best aspects of Planet of Lana is the tasteful visual field and well-designed settings, both in terms of the peaceful landscapes and the intense, elaborate action scenes. The whole adventure is framed by an ideal soundtrack, with various orchestrations that ideally accompany each situation, managing to elevate the action scenes and provide a suitable "carpet" in the quieter moments.
Planet of Lana, despite its slight daring in terms of puzzles, is ultimately a particularly good start for Sweden's Wishfully Studios, following in Playdead's footsteps, but having its own personality. Without a doubt, it's an ideal choice for those looking for similar platform experiences and a "condensed" trip to an exotic world.
This Lana's Planet released 5/23/23 for PC, Xbox Series, and Xbox One. Our review was based on its PC version, with a review code we received from Thunderful.