Visa has entered the crypto space in earnest, recognizing its technological potential. In recent weeks they announced that they had created an application that facilitates transactions with Visa cards, in currencies like dollars and euros, on the Ethereum network. Powered by Ethereum!
Yesterday they announced that they could do something similar using The Solana Blockchain! According to what they claim, Visa has already transferred millions of USDC between its partners on the Solana and Ethereum networks to process payments. Settlement was made via VisaNet and concerns transactions with conventional currencies (fiat).
Why is Visa experimenting with crypto? When we use Visa cards to make purchases at any of the millions of retail locations around the world, we see its convenience. almost immediate payment. However, it may seem to us consumers that the payment takes a few seconds, but the process is not complete. Days or even weeks pass until settlement between banking institutions takes place, that is, it reaches the final stage. And of course because they are involved many intermediaries, the cost increases. Both for the business and for consumers, especially if the movement of money involves conversion to another currency.
This is where cryptocurrency technology promises to provide the solution. By using stablecoins like USDC and international blockchain networks like Solana and Ethereum, processes are simplified and accelerated, as stated by Cuy Sheffield, head of Visa's cryptocurrency division.
The pilot program was carried out in cooperation with the Crypto.com exchange. A program that began testing in 2021, making Visa one of the first major payment companies to experiment with stablecoin transaction processing.
They say the venture was a success because previously, cross-border payments made with Crypto.com's Visa cards required a complex currency conversion process that took several days and costly international bank transfers. Crypto.com now uses USDC to meet its Visa card regulatory obligations in Australia. In fact, it plans to expand this feature to other markets.
We are delighted that Circle (the USDC issuing company) working with Visa has led to innovations in blockchain technology, said Jeremy Allaire, co-founder and CEO of Circle. "The expansion of the pilot program illustrates how pairing USDC with Visa's innovative applications is shaping the future of payments, commerce and financial applications," he said.
As Visa moved toward this technology, it began exploring the possibility of transferring stablecoins with even higher speed and even lower cost. This is why it chose to add the Solana network as a blockchain that its partners can choose to send or receive payments in USDC. Solana's blockchain averages 400 transactions per second (TPS), further reducing the speed of money transfer.
Trying to create an efficient and secure bridge between traditional banking and Web3 is a bet that Visa seems to be winning.
Today's photo of Solana
But it's not all good news for Solana, as daily active addresses on its network continue to decline. Now the seven-day average has reached 204,000 in August. THE lowest number since data started being countedend of 2020.
Solana pays for the fact that he had close relations with him Sam Bankman-Fried and the FTX group. Funding and support cut off, reputation tarnished. As if that wasn't enough, the United States Securities and Exchange Commission has classified Solana as a security.
All this drove up its price well under $265 which had reached the high in November 2021. Today, it is trading near $20, as we can see in the 4-hour chart below.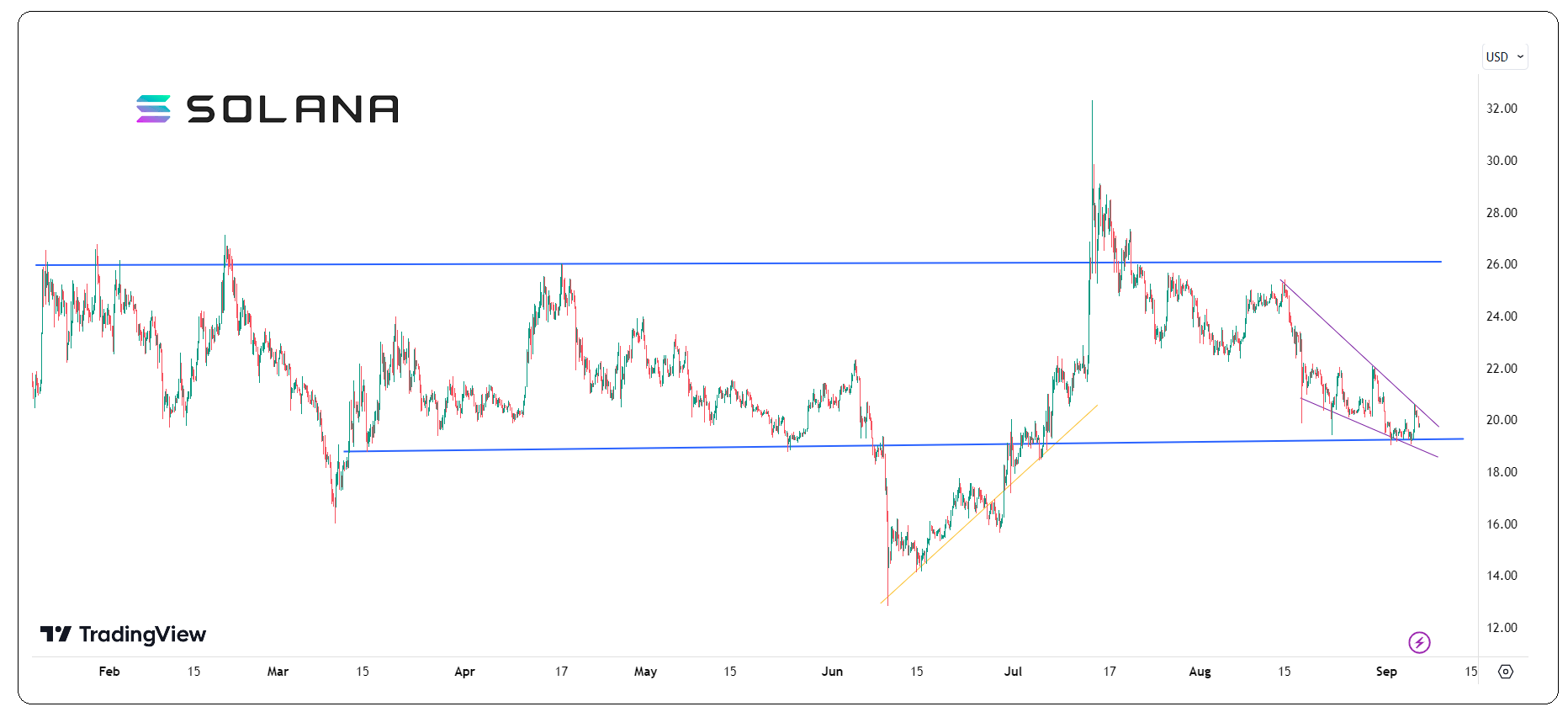 How to Become the Next Certified Crypto Specialist
The Institute of Digital Economy, in collaboration with Euro2day.gr, offers for the second year a comprehensive annual program, which covers all aspects (except programming) of the most exciting economic and technological sector of our era.
Those who participate will earn a state-recognized degree and the title of Certified CryptoSpecialist. The training program lasts one academic year (October 18 – July 5). Classes are given by 30 renowned lecturers and last 3 hours, 2 to 3 times a week, in the afternoon.
The program covers 5 thematic sections:
Introduction to Bitcoin, Blockchain and Artificial Intelligence (42 hours). Ensure confidentiality and protect digital data (46 hours). The digital marketing of the future, NFT and Metaverse (38 hours). Unlock the world of altcoins! (60 hours). Complete guide to cryptocurrency investing (60 hours).
Don't miss this unique opportunity. Learn from top professionals in the crypto field. Invest in the future, leverage disruptive cutting-edge technology. The evolution of money itself.
More information can be found at www.indifi.gr.
Book on cryptocurrencies
The book "The Bitcoin Investment Manual" can be obtained in bookstores or https://shop.media2day.gr/books/2/prodcategory